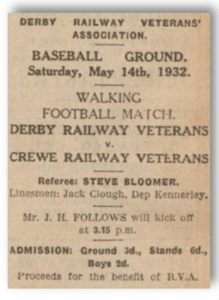 Walking Football was introduced to the general public around 2011 and credited to Chesterfield FC community Trust, although there is evidence of the game being played as early as 1932 in a match between Derby and Crewe Railway Veterans.
The "Real" version of walking football is supposed to be a slower safer version of small sided football aimed at older Gentlemen aged fifty years of age or more.
Most footballers stop playing the game in their mid-thirties to early forties due to the increased physical demands and the injuries that follow. There are veterans' tournaments for 35 years plus but again there comes a day when this is no longer an option and therefore over 50s Walking Football was formed.
Following the TV advertisement for Barclays Bank Digital Eagles which was filmed in Cove, Hampshire, the sport was introduced to a nationwide TV audience and an explosion of interest led to clubs up and down the country being formed.