Undefeated and sort of cheated -:
Despite not being beaten, as three teams failed to show, we were given 3 points for one game whilst Leyton Orient were given 6 points for two.
As a result, Leyton Orient were awarded a semi-final slot at our expense - even though we worked for all bar one of our results. Still, it was a marvellous tournament and very well organised and attended. There must have been around 16 teams over the three groups. A burger and a beer to round off the day and The Old Offenders felt justifiably proud that they had improved as a team and performed extremely well in every game. Here's to the next tournament!!!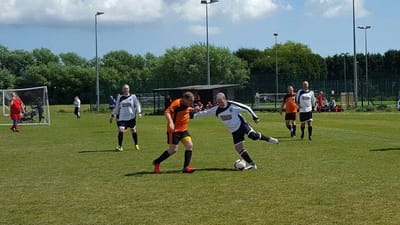 Mo 'Speedy' / 'Beep Beep' Daili made Old Offender history -:
by being the first Old Offender ever to be sent off!
It was not, incidentally, his fault. Although he had been picked up by the referee for breaking into a jog twice, his third and final caution equalling a sending off was unfair. He had his heel clipped by a defender and the resulting 'jog' was merely an attempt to regain his balance. Captain 'Bammy' somehow managed to not inform the referee he was a "f*ck*ing d*ckh**d" thereby not being the second Old Offender sent off - actually, Captain 'Bammy' avoided swearing at all throughout the tournament which also made some kind of history :-) Paul 'Psycho' Standen gave the impression there were three of him by popping up all over the pitch whilst Mrs Psycho, Mrs Hair Bear along with Captain Bammy's daughter and her partner cheered us along as did Speedy's son number 1. As and when this tournament is repeated we will be back!